If you're taking a class that has VoiceThread activities, this guide will show you how you can leave a VoiceThread comment.
In some VoiceThread activities, all you will need to do is leave one or more comments and then you will be done. If your instructor has configured the VoiceThread activity using the VoiceThread assignment builder, you'll need to leave a minimum number of required comments and then click the "submit assignment" button in the upper-left corner of the screen once you are done. If you don't see the "submit assignment" button, then don't worry about that part.
In this example, we'll assume that you are completing a "student introductions" activity at the beginning of a course which requires you to leave a comment introducing yourself to the class.
1) Click on the activity link to begin. It should look something like this:

2) The VoiceThread activity will open in a new tab. The instructor's introduction and the other comments left by students will begin playing, and you should see a description of the activity in the upper-left corner:
3) After you have read the description and watched the video, click on the "speech bubble" icon at the bottom of the screen to leave a comment:
4) You'll then see a set of icons for the different types of comments you can make. You can leave (pictured left to right) a text comment, an audio comment by telephone, an audio comment with your computer microphone, a webcam video, or a file upload. Some of these options may not be available if they have been disabled for the assignment. In this example, we'll be posting a webcam video:
5) A recording countdown will begin and then you can begin recording your comment. You'll see a preview of your webcam feed on the left. Once you're finished making your comment, click "stop recording"
6) Your recording will now be played back for you to review. If you would like to re-record your comment, just click "cancel" and record again. If you are happy with the comment, click "save" and then proceed to the next step:

7) You'll now see your comment listed in the left sidebar along with the other student comments. If your VoiceThread activity was configured as an assignment, be sure and click the blue "submit assignment" button in the upper-left corner of the screen in order to submit your work for grading: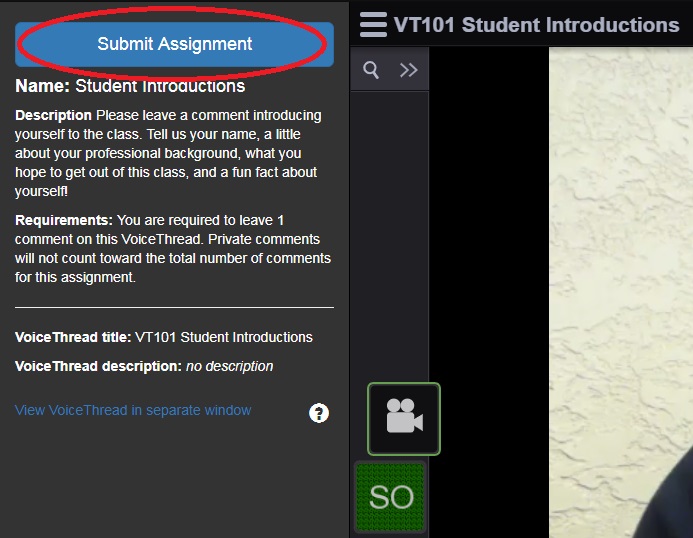 That's it! You've successfully completed and submitted your VoiceThread assignment. If you encounter any issues using VoiceThread, please contact us by using the "request moodle support" link that is found on the right-hand side of any Moodle page: