In this guide, I'll show you how to make a simple course activity using VoiceThread. For this example, I'll demonstrate how you can make a course introduction activity that invites students to introduce themselves to their classmates and share a little information about their professional background and what they hope to get out of the class.
First, in your Moodle course, use the "Add an Activity or Resource" feature and select "VoiceThread" from the list of activities: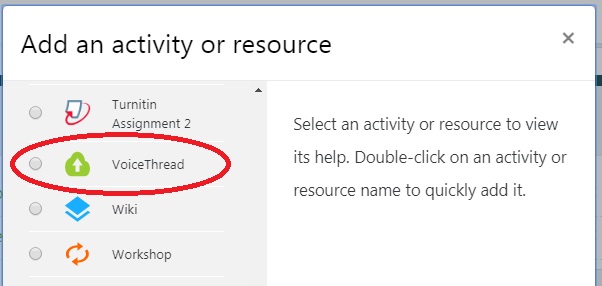 On the next screen, you'll need to give the activity a name. We'll call this one "Student Introductions"


You'll also need to indicate how many points are associated with completing this activity. By default, the new activity will be worth 10 points. You can change the number of points, or if the activity is ungraded, change the grade type from "point" to "none"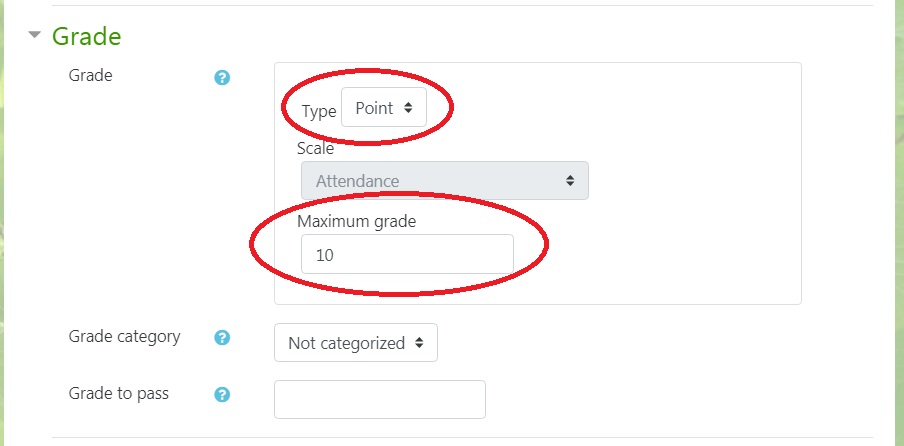 Feel free to explore the other options in the future, but these are the only options you need to change for this example. Now click "Save and Return to Course" and you'll see your new activity listed in the section where you added it:
When you click on the activity for the first time, you'll be presented with a VoiceThread configuration menu where you will need to finish setting up the activity. For this example, select the "assignment builder" option:
For assignment type, select the "leave a comment" option:

You will then be prompted to select a VoiceThread. The VoiceThread that you select is the initial content that students will watch and then comment on. For this exercise, we'll just make a short video introducing ourselves and telling the students what information we want them to share in their introductions. To begin making a video, click the "create new VoiceThread" option in the upper-right corner:
Click "Add Media" and then select the "Webcam Video" option:
You'll see a preview of your webcam video and a countdown will begin. Once you've finished recording your introduction, just click "stop recording"
VoiceThread will now play back your recording for you to review. If you like what you've recorded, click "save" and move to the next step. If you want to re-record, just click cancel, then select "webcam video" again and record a new introduction: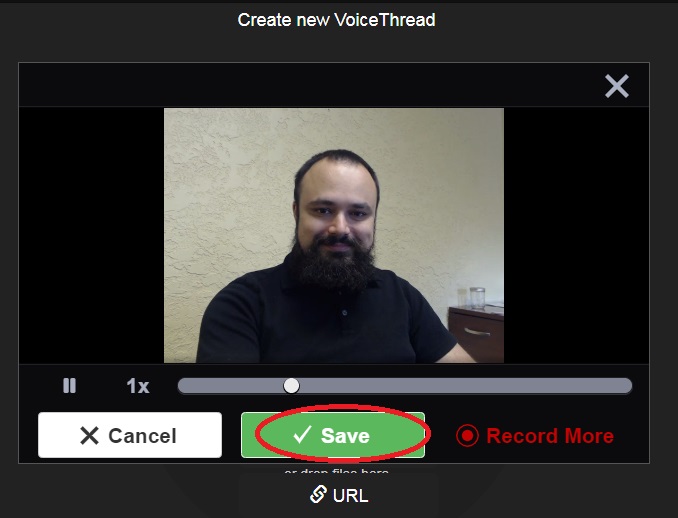 You'll now be presented with the "thread settings" screen. On the first tab, enter a name for the thread (we'll call this "VT 101 student introductions") and then click the "playback options" tab: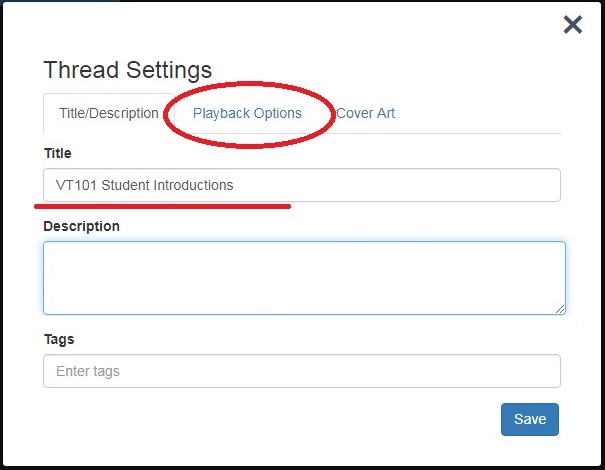 There are several settings on the Playback Options tab. You can change these according to your own preferences. For this example, I would suggest enabling "threaded commenting" (so you can reply to student introductions in a comment thread) and enabling "allow commenters to add slides to this VoiceThread." You can then instruct the students to add a slide with their personal introduction and then leave a comment on at least one other student's slide:
Once you have finished configuring the thread settings, click "save." On the next page, click the "create assignment" button:
On the next screen, write a description of the assignment and enter the number of required comments. Since in this example, we are asking students to add one slide and leave one comment, we will only require one comment ("slides" do not count as "comments"). Once you've entered a description and entered the number of comments, click "Create Assignment" in the lower-right:
You'll now see an "assignment created" notification and a link that will bring you back to Moodle:
The assignment is now ready for students to access and record their introductions. Once the assignment has been available for a while and some students have left comments, click on the activity in Moodle again to review and grade the comments:

In the upper-right corner, you'll see a list of all students who have submitted a comment. Click on a student's name and their comment will automatically play:
Watch the student's comment and then enter a grade between 0 and 100 percent. Since this assignment was configured to be worth 10 points in Moodle, entering a grade of 100% will give the student 10/10 points in Moodle:
You should see a pop-up notification that the grade was saved. Move on to grade the next student; we'll give this student 50% which should award them 5/10 points in Moodle:
Once you've finished grading, use the back button in your browser to return in Moodle. Now, in Moodle, click on the "grades" link in the left-hand navigation bar so we can verify that the grades from VoiceThread were entered into the Moodle gradebook:
On the grader report, you should be able to see assignment scores for the students that you just graded:
That's it! You've successfully created a VoiceThread activity and graded the student submissions. For more ideas about how to use VoiceThread, go to the VoiceThread homepage at voicethread.com and click on the "training" link. The "free workshops" and "digital library" links both include lots of ideas for using VoiceThread to create flipped classroom content, design collaborative student projects, and more:

You can also learn more about VoiceThread by watching the product demonstration videos. If you need help getting started with VoiceThread, please feel free to contact me at jfowler@nunm.edu