In a previous article, we reviewed how to make a VoiceThread comment. In addition to making comments, you may sometimes have assignments which require you to add slides to a VoiceThread.
1) Click on the activity link to begin. It should look something like this:

2) The VoiceThread activity will open in a new tab. The instructor's introduction and the other comments left by students will begin playing, and you should see a description of the activity in the upper-left corner:
3) In the lower-right corner of the screen, click this icon to "show all the slides"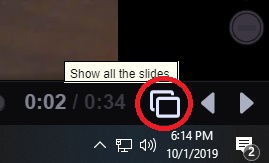 4) The current slide will be reduced to a thumbnail and shown in a grid with all the slides that have been added so far. At the end of the slides there will now be a plus icon titled "add a slide"
5) The icon will be replaced with three options. You can record audio, upload a file, or record video. If necessary you can make additional comments on the slide after uploading; so for example, you could upload an image and then leave a comment on the image explaining what it is. If the assignment requires that the slide is a video comment, pick the "record video" option: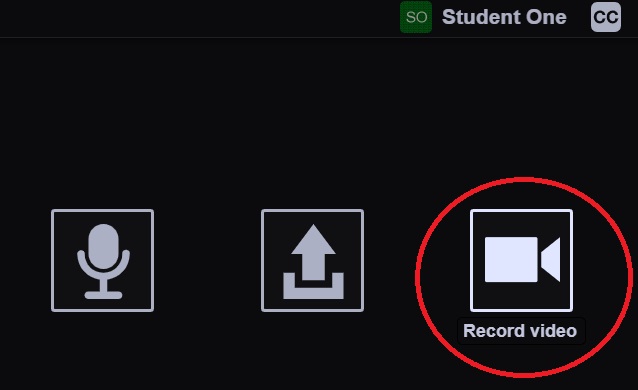 6) You will now be presented with the recording interface that is identical to the recording process in the previous article on posting a comment. After you've finished the recording, you will be prompted to give the new slide a title. Click "save" when you are done: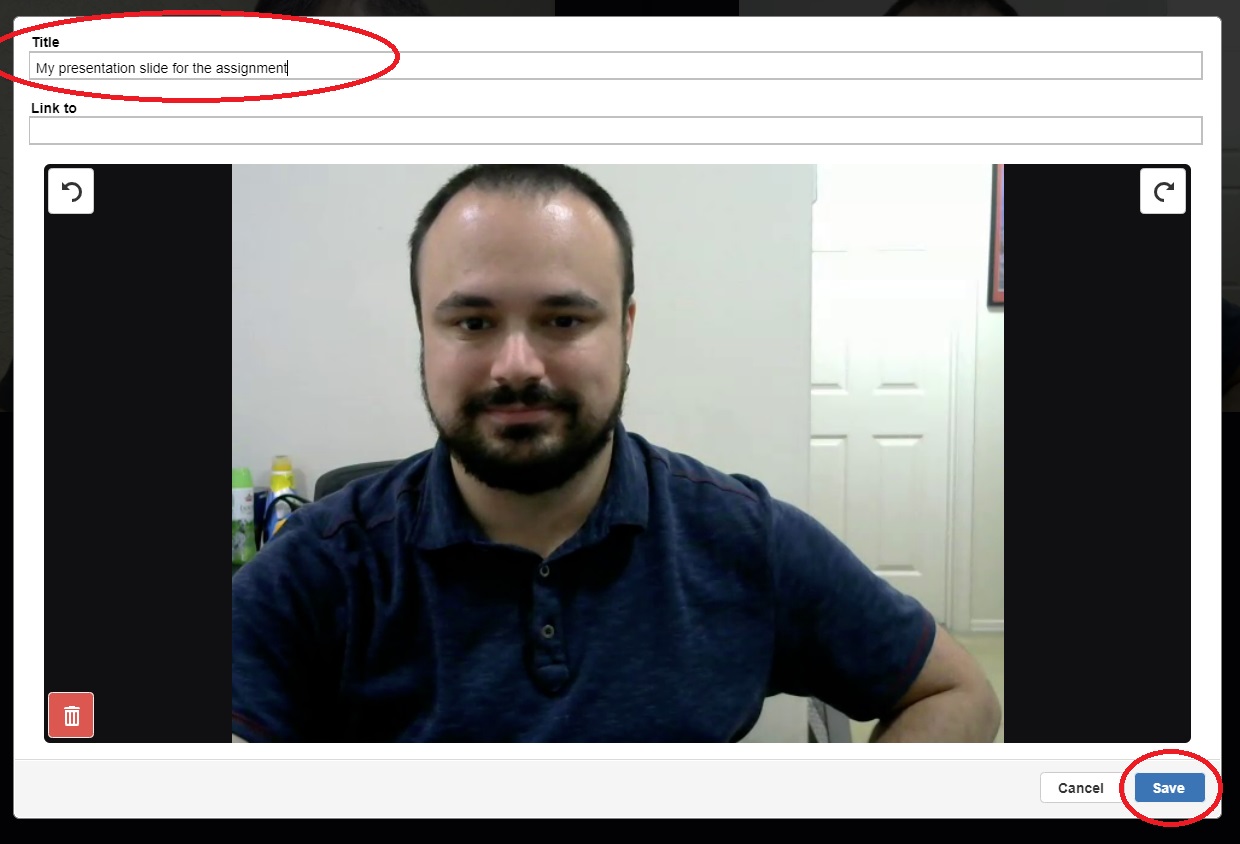 7) Back on the main page for the VoiceThread, you'll now see your slide appear next to the other slides that have been added. Other students can now leave comments on your slide in order to give you feedback, and you can also make comments on your slide in order to respond to other comments or to give additional context for the slide, such as if you uploaded an image or video file and you would like to leave a comment explaining it.
8) Note that in VoiceThread, a "slide" is not considered a "comment." So if the text under "requirements" states that "you are required to leave 1 comment on this VoiceThread," but the text in the assignment description says you must upload a slide and leave 1 comment, you will need to upload at least two times, once for the slide and once for the comment:
9) Once you have added your slide and left the minimum number of required comments, be sure to click the blue "submit assignment" button in the upper-left corner of the screen.
10) Remember that you can also use an image or video file to start the conversation on your slide instead of just recording a video. Just select the icon in the middle and then select a file from your computer:
11) Here's a picture of some prepared food that I've uploaded to start a slide. I didn't take this photo, I borrowed the picture from a website that offers free stock images, but you could use the same feature to upload pictures or videos that you've taken or recorded yourself: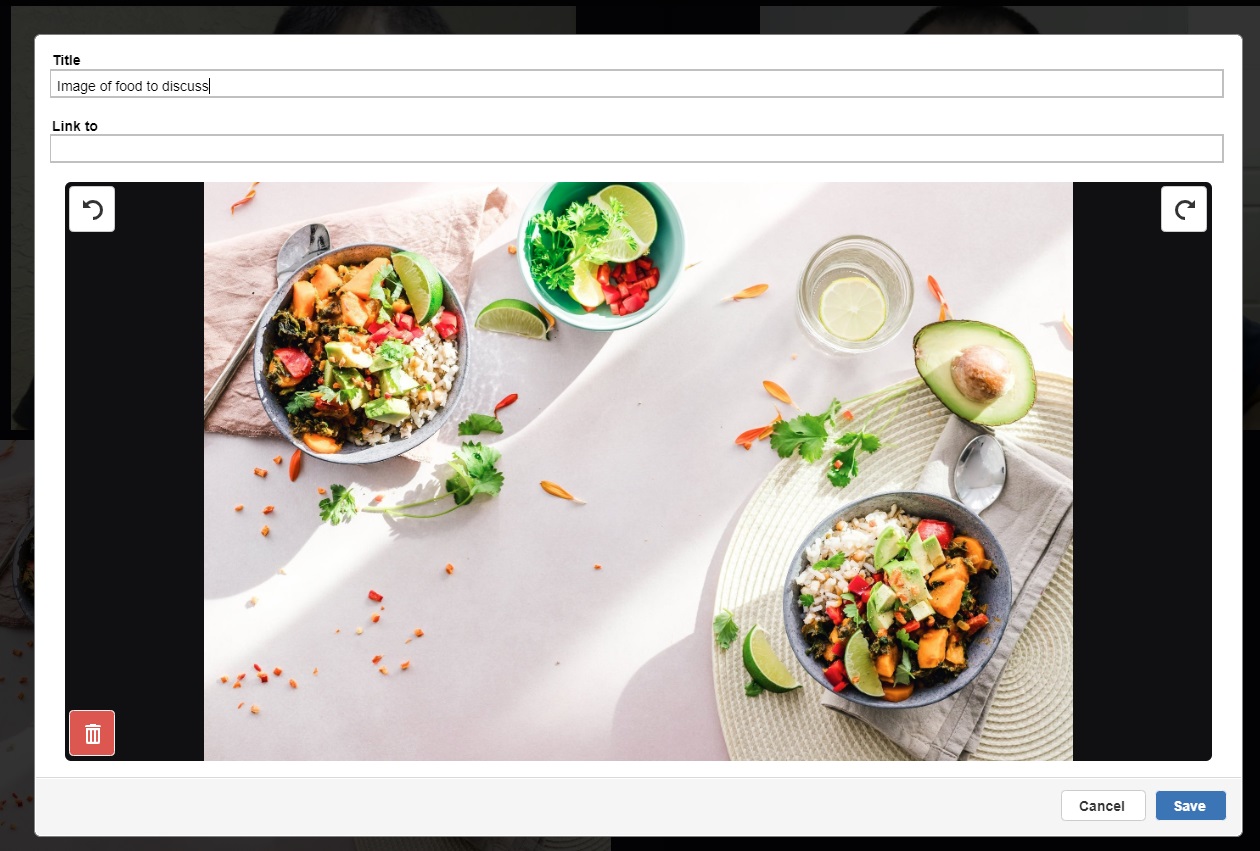 12) You can then use the usual commenting features in VoiceThread to create a video comment introducing the image and engaging in discussions about it with your peers and your instructor:
There are lots of creative ways that you can utilize VoiceThread! For a refresher on leaving comments, please refer back to the earlier article on how to make a VoiceThread comment. If you encounter any issues using VoiceThread, please contact us by using the "request technical support" link that is found on the right-hand side of any Moodle page: