In this article, we'll review how you can use Moodle to take attendance in your class using the attendance activity. In this example, we'll create an attendance activity for a mock class with 240 total points in which attendance is 25% of the total grade:
120 points (50%): 12 weekly assignments worth 10 points each
60 points (25%): Final Project
60 points (25%): Attendance in class
1) To get started, click on "add a resource or activity" and select the "attendance" activity. Note that you will only need one attendance activity for the entire term, so you can put this near the top of your Moodle page:
2) On the next screen you will see some options for the attendance activity. In the "grade" section of the options you will need to select a point value for attendance in the class. Note that this is the total number of points for attendance throughout the entire class, so in this example we will enter a value of 60 points:
3) After entering the point value in the "maximum grade" field, there is no need to change any of the other settings. Now, you can click "save and return to course" at the bottom of the page. You will be returned to the course page and you should see the attendance activity at the top. Click on the activity to begin setting up course dates:
4) On the next page, you will see the attendance interface. This is where all of your course dates will be listed once you have created them. To get started, click the "add session" tab at the top of the interface:
5) In the add session interface, you'll schedule a time for your class to meet. Normally, this will be the first day of class in the term. For this example, we'll say that the first class meets on Friday, December 6, 2019, at 8:00am:

NOTE: If you need to take attendance for different course sections at different times, you will need to enable a group mode in your course. Use the steps in this article: Enabling Group Modes for Taking Attendance by Section
6) You can then use the "multiple sessions" options to schedule a recurring class meeting. This makes sense if you are taking attendance for a 12-week class that meets at the same day and time each week. For this example, we'll say that the class is going to meet once a week on Friday for the next 12 weeks:
7) There are options for students to record their own attendance in the "student recording" section, but in this example we will stick to taking manual attendance. Click "add" at the bottom of the screen to create the recurring session we have just configured:
8) Back on the main attendance activity page, you should now see your 12 sessions listed in order: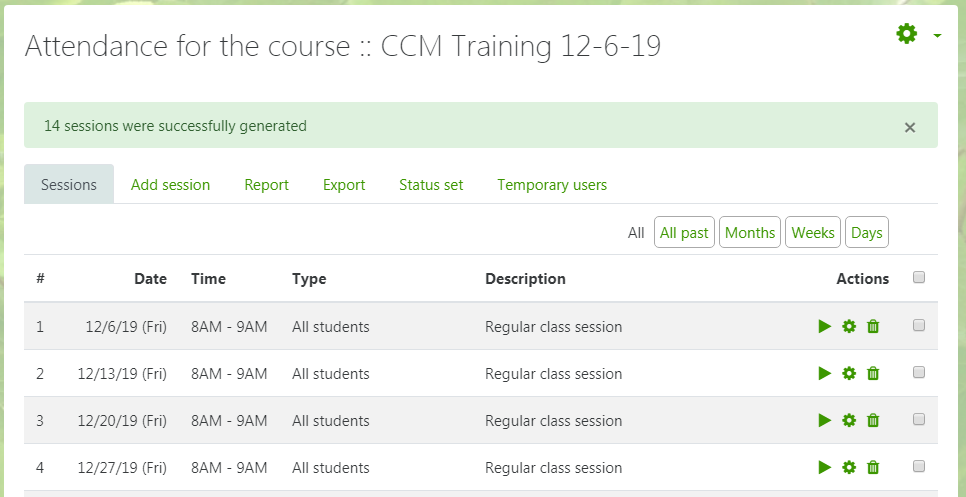 9) It looks like I made a mistake with the date in step 6 and created too many sessions. I wanted to have 12 sessions but I've created 14. Oops! Not to worry; if you need to delete a session, just click the trash can icon to remove it:
10) At this point, all of the work needed to prepare the attendance activity for the upcoming term has been completed and all that remains to do is to take attendance on each day that the class meets. Let's try this now by taking attendance for the first class meeting on December 6th. To start taking attendance, just click the "play" icon for that date:
11) On the next screen, you'll see a list of all the students in the course. For this example, there are just two students, "student one" and "student two." For each student, you can mark whether they are present or absent: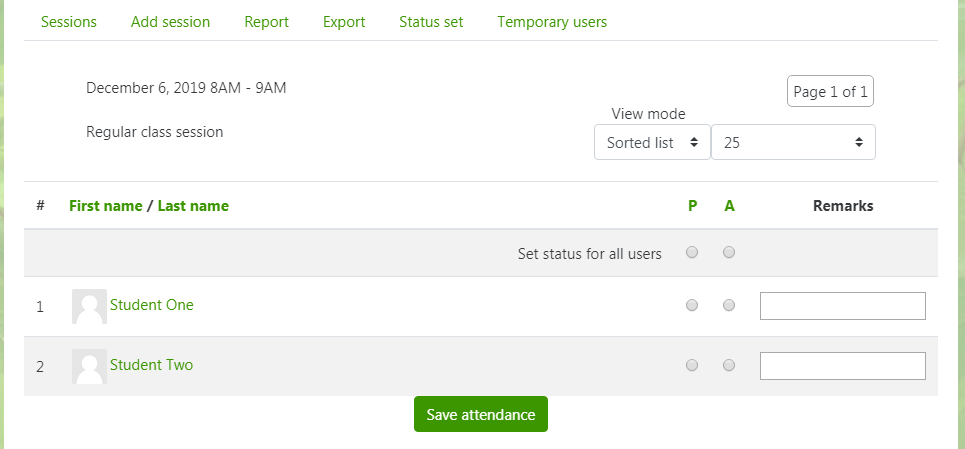 12) For this example, let's mark both students as "present" and then save attendance: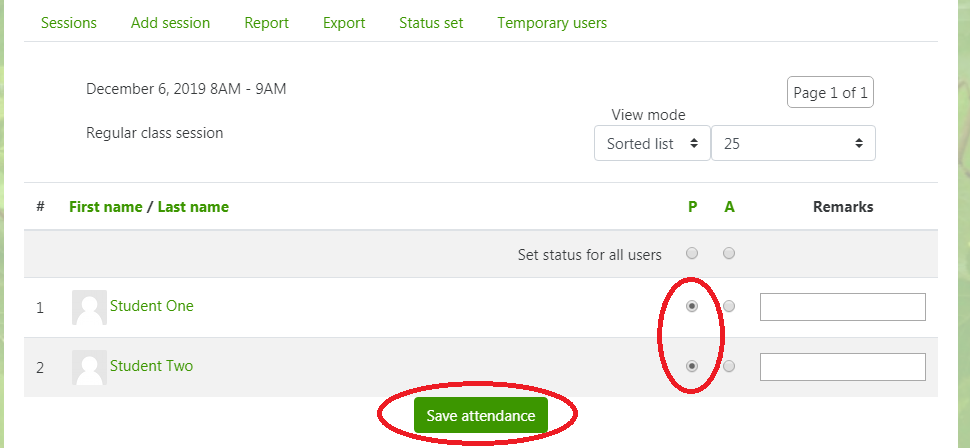 13) Now, if you look at the score for attendance in the gradebook, you'll see that both students have 60 out of 60 points for attendance after being marked as "present" for the first class session. This is because the gradebook will keep track of their average attendance score throughout the term:

14) To illustrate this, let's take attendance on another day. This time, we'll mark student one as present and student two as absent:
15) Now, back in the gradebook, you'll see that student one still has 60 out of 60 points for attendance, but student two now has 30 out of 60 points for attendance, because student two has missed 50% of the class sessions that have been held so far:

That's it! You've now done everything you need to do in order to begin taking attendance with Moodle and automatically calculating student grades for attendance. To take attendance in class, just log in to Moodle and mark students as present or absent for that date and then save the attendance.

There are other options you can experiment with in the attendance activity, such as allowing students to record their own attendance using a password, or unlocking options for partial attendance credit if a student is late or has an excused absence.